Pricing & packages
We look forward to helping you with your real estate needs.
Let's discuss which package is the best fit - just contact us to get started!
| | | | | |
| --- | --- | --- | --- | --- |
| Monthly Management Fee | | 5% | 6% | 7% |
| Leasing Fee | 1 Month Rent | 50% of 1 Month Rent | $950 | |
| Enhanced Marketing * | $250 | $250 | $250 | $250 |
| Tenant Screening | | | | |
| Account Setup Fee | $250 | $99 | | |
| Rent Collection | | | | |
| Move-in Inspection * | $150 (optional) | | | |
| Owner Portal Access | | | | |
| Monthly Owner Statement * | | | | |
| ACH Owner Payment * | | | | |
| City Code Compliance * | | $50/hour | $50/hour | $50/hour |
| Monthly House Cleaning/Monitoring | | | | Y (optional) |
| Exterior Drive-by Inspection | | | $75 (optional) | $75 (optional) |
| Anuual Walk-Through Inspection * | | | $65 | |
| Home Maintenance Support | | $50 | $50 | |
| Move-out Inspection * | | $75 | $75 | |
| SD Disposition * | | $150 | $75 | |
| Lease Renewal | | $150 | | |
| Eviction Assistance * | | $50/hour | $50/hour | |
| Utility Mageement * | | $25 | $25 | |
| 1099/EOY Statement | | $50 | $25 | |
| Cancellation Fee | | $0 | $0 | $0 |
Click here for a printable PDF pricing sheet.
*(Enhanced Marketing) Includes video walk through tour and photos
*(Move-In Inspection) Detailed Walk Through w/photos
*(Monthly Owner Statement) Statement reflects all monthly transactions
*(ACH Owner Payment) funds are directly deposited into your account
*(City Code) Housing department requires annual property inspections on apartment housing in the City of Phoenix
*(Home Maintenance Support) Fee is for coordinating maintenance only. Any maintenance costs for repairs will be billed out directly to owner. Remodels/Renovations/Room *Additions will be billed at 10% of the project cost
*(Annual Walk-through Inspection) Detailed walk through w/photos
*(Move-Out Inspection) Detailed walk through w/photos
*(SD Disposition) We manage the return of the security deposit in accordance with state statutes
*(Lease Renewal) Applied each time a tenant in place renews their lease; includes negotiations
*(Eviction Assistance) If an eviction is necessary, we will coordinate all necessary paperwork for the Attourney
*(Utility Management) Ensuring utilities are turned off/on as required
Free Rental Analysis
Our property consultation helps us make data-informed decisions about your rental property, including rate estimates and other information so you can invest and manage your property more wisely.
Get Optimized Rental Value for Your Property
Gain Crucial Insight into Current Phoenix and East Valley Conditions
Determine Your Cash Flow from Monthly Rental Value
Get started with your FREE RENTAL ANALYSIS by entering your rental property address below. Your report will be emailed in minutes!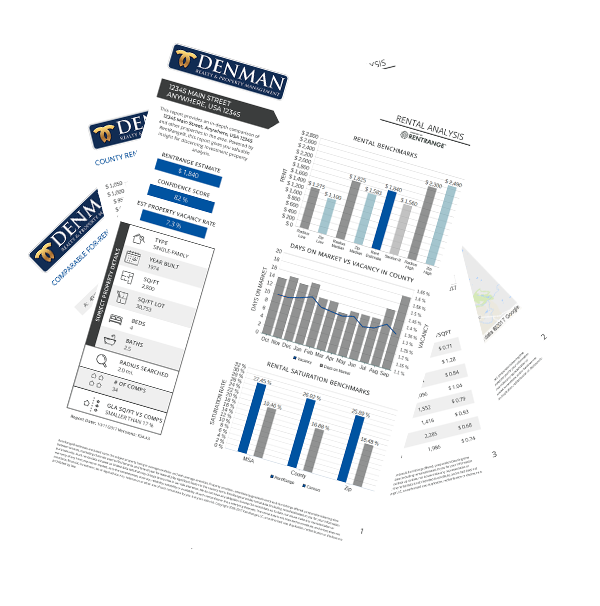 What sets us apart from other Phoenix area Property Managers?
20 Years as a Licensed Real Estate Agent
19 Years as a Real Estate Broker
20 Years Professional Property Management Experience
50 Years Personally Owned Rental Property
40 Years of Financial Analysis Experience in the Real Estate Industry
In-house Residential Property Investment Consulting Services
we've got you covered with our guarantees
Explore What We Do
As your Phoenix Property Manager
MARKETING
Marketing is key to successful rentals. We provide an expert market analysis for each property we manage to maximize your return on investment.
TENANT SCREENING
We conduct extensive screening on all tenants and handle every aspect of getting your investment rented in the shortest time possible.
RENT COLLECTION
We make sure you get paid on time, every time. You no longer have to worry about rent showing up in your bank account because we take care of everything.
MAINTENANCE
We conduct inspections upon move-in and move-out and ensure all maintenance issues are addressed in a timely manner.
FINANCIAL REPORTING
With our detailed financial reporting tools, it's never been easier to keep tabs on your investment. Log into your owner portal to view statements & more.
EVICTION PROTECTION
In the unfortunate event that a tenant needs to be evicted from your rental, we will shield you from the stress and re-rent the property promptly.
Get A Quote
Additional services
(Some of these services require additional fees)
Lawn Service, Pre-Arrival Cleaning, Annual A/C Check, Insect/Pest Control

We will arrange these services through third party vendors as you instruct and will pay the bills from your Working Capital fund. - No additional fee.

Repair/Remodel Supervision

We will arrange through third party vendors as you instruct and physically inspect the property before, during and after to ensure work is done per contract. If cost estimates

you will be required to deposit the amount into your Working Capital fund before the work can begin. - A supervisory fee of 10% of Total Invoice will be charged.

read more >

Alarm Call Response

Give our information to your alarm company as the first person to call and we will go out to your property if notified that the alarm is sounding. - Fee of $30 per call.

Night & Weekend Key Delivery

If you need keys delivered to you during non-work hours. - Fee of $30 each time.

HOA Compliance

WGive our information to your HOA as the contact for compliance issues and we will immediately inform you by phone or email and rectify the matter as you instruct. - Fee of $15 each time.

Accounting Services

Denman Realty will hold a Working Capital Deposit. All Vendor bills will be submitted directly to Denman Realty and will be paid from the Working Capital funds. Owners

will receive a monthly accounting statement that will include reimbursement for any vendor invoices paid from the Working Capital fund and Denman Realty monthly fees.

read more >

Fees & Deposits

Call Lee Pagano at 480-834-1525 to discuss the costs for the initial inspection, the report of recommendations to make your home ready for seasonal vacancy, and to

get set up in the accounting system. Working Capital Deposit to be held by Denman Realty.

read more >

Owner Occupancy

During owner occupancy, inspections will cease, but accounting services will be continued for a reduced fee of $25 per month.
Get Started!